Stavanger, Norway (1998-1999; 2003)
As a subcontractor to Rogaland Research, Stavanger TTK was involved in the light rail planning part of the Transportplan Nord-Jaeren, put up in 1998.
Axel Kuehn formed part of the project group and participated in a variety of project meetings to discuss infrastructural and operational aspects of the "Stavanger Bybane" with the other members and cared also for several study visits (see study-tours …).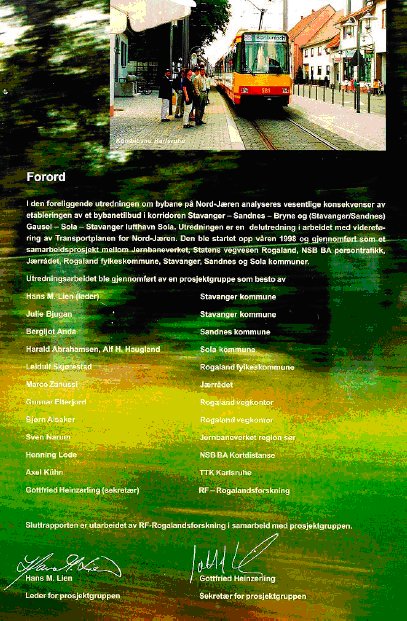 The co-operation started in 1997 lead to a longer-lasting relation with Stavanger municipality and county which resulted also in the choice of Axel Kuehn as an expert for the HiTrans-project (see HiTrans). Apart from the HiTrans project Axel Kuehn together with his Dutch colleague Rob van der Bijl performed a workshop in Stavanger in 2003 on specific aspects of modern PT-schemes.