Basle (2002-2003)
As part of the investigations on a new core (tunnel) section for the Regio-S-Bahn network in Basel the question was put up whether there would be a technical solution to allow a mixed use of the planned city-centre tunnel by both heavy rail and tramway vehicles.
Connoisseurs know that the Basel tramway is metre gauge, which meant that the classic Karlsruhe TramTrain approach could not be applied here. Besides the gauge problem the different platform height for low-floor trams and S-Bahn trains had to be investigated as a second serious problem issue, not to talk here about the "usual" signalling and safety aspects discussion in this project genre.
The project group decided two involve two independent experts jointly on this topic: Urs Baechler, Effretikon, a Swiss rolling stock expert with a life long experience and Axel Kuehn.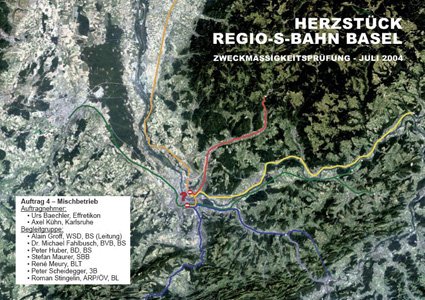 The two experts came up with an identified feasible solution which did include a 4-rail track throughout the tunnel in order to allow low-floor platforms for the 2.3m tramway rolling stock outside the heavy rail clearance (derived from the Kassel solution on Baunatal or Hessisch Lichtenau lines) and separate tramway island platforms between the tracks, while the higher heavy rail platforms would have been located on the outer side.
However, it was decided not to put another complicating burden on the Regio-S-Bahn project, which anyway still had many hurdles to manage.
Note: After public consultation in 2005 no decision was taken yet regarding the choice of variants (Northern or Central option) which means a postponement.