Brisbane (1998-99)
During the planning process of the first Briztram project local consultants PPK (now being integrated into worldwide acting Parsons Brinckerhoff) engaged two experts from Europe to assist them in the planning and public consultation process. These were Trevor Griffin from that time BR Research, Derby and Axel Kuehn from TTK. Both had worked together before on UK projects and have maintained a long lasting co-operation and relation despite all changes.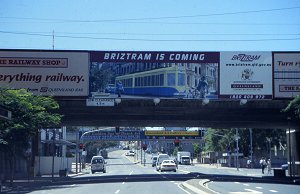 Both experts have been invited to spend 2 weeks in the Brisbane offices of PPK and to participate in the planning process, one specific topic for Axel Kuehn was the participation in the public inquiry meeting.
After return to Germany the co-operation with PPK went on for a while to answer additional questions and to quality control specific light rail related planning issues. This included also the organisation of a round trip study-tour for the Australian client together with BR Research/AEA Technology involving UK, French and German cities (see study-tours …).