Grenland, Norway (2005)
Grenland is a region in the South of Norway around the two neighbouring cities of Skien and Porsgrunn and part of Telemark County.
Within Telemark County some vision about a Grenland Bybane has been existing since the mid-90's ("first generation TramTrain euphoria") but it lasted until 2005 that new political initiatives allowed to start with an update of the original ideas.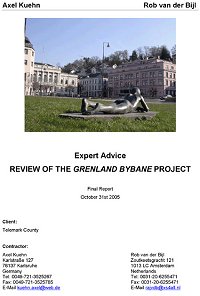 Axel Kuehn's involvement has been the organisation and professional guidance of a studytour in July 2005 (see below) and a review of the project using the "50 TramTrain issues method" (www.lightrail.nl/TramTrain) together with Rob van der Bijl (see www.lightrail.nl/rvdb) in August/September 2005. The latter study included a project definition (the original "vision" not yet being a real, identifiable project) and staging which is to be used in a pilot study to be performed by local Norwegian consultants. Axel Kuehn stays on the client's side for further expert advice/second opinion.