Karlsruhe (1986-96)
Axel Kuehn started his business career in 1986 for the Karlsruhe PT-operators VBK/AVG. Behind the "maximo leader" Dieter Ludwig and vice-head Georg Drechsler he was over the years responsible for the planning of a number of Karlsruhe´s best known tramway, light rail and TramTrain schemes:

Rheinstetten


Stutensee-Blankenloch


Bretten


Pfinztal-Pforzheim


Wörth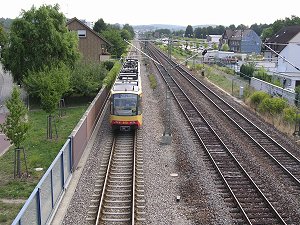 A large variety of other "daily" tasks and smaller projects filled the time around these main projects …
So he was developing the Bike & Ride idea, was part of the project team dealing with the first "underground" scheme (killed in 1996 by public referendum) and was hosting many visitors from all around the globe - quite a few of today´s ongoing relations started actually in these years.
If one imagines that shortly after joining VBK/AVG his first working weekend was seeing participation in the first trial trips on DB-infrastructure with a dual-mode prototype light rail vehicle, it becomes clear that he has been dealing with TramTrain issues from the earliest stage and went on ever since in many/most other projects of this genre in Germany and abroad, at least in the early strategic phases.