Oslo, Norway (1996-1997; 2002-2005)
Axel Kuehn was already involved in the first KOMBIBANE study in the Oslo region which was performed in 1996-1997 and which looked for the transferability of the Karlsruhe ideas to Oslo.
Further work included supporting a study visit of an Oslopakke 2 group to Freiburg in late 2002, as well as part-organising a visit of the O2 secretariat to Spain in 2005 (tour was guided by Rob van der Bijl; see www.lightrail.nl/Spain ). Also smaller consultancy tasks on specific tramway related issues have been assigned by Oslo Sporveier.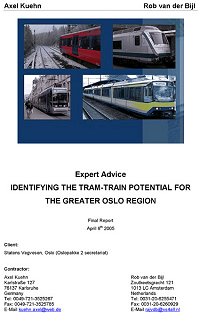 A major piece of work has been delivered in April 2004 with a report on "Identifying the TramTrain-potential for the Greater Oslo Region". Within this study for the first time the "50 TramTrain issues" approach (see www.lightrail.nl/TramTrain ) has been applied within a "real" study. Work did also include a two day workshop in Oslo with local stakeholders discussing the key issues.