Archive
Light Rail Atlas 1998-2010

This archive page contains a small selection of early specials, news items, opinions, and our famous case study on Portland, Oregon.
Guestbook selections
"This morning, I happened to see your web page, which I didn't know about before. I enjoyed reading it."
"I finally got a chance to visit your website, and I really enjoyed it."
Still some mail is funny, mad or interesting enough to be stored in our archive:
"Welcome to politics NYC style" - click here...
Selection of early years news
Specials


Examples of low-cost light rail solutions in North America
1997: Tom Larwin (San Diego Metropolitan Transit Development Board) & Cliff Henke (METRO Magazine)
The light rail renaissance in North America had modest beginnings. As such, these cities (e.g. Calgary, San Diego) could provide models for others in both developed and now developing nations looking to improve their rail urban transport infrastructures.


Buses are boring and trains are sexy?
2002: Rob van der Bijl (LRA)
Are there many differences between buses and light rail? Yes! Do they provide similar performences? No! Or as a former mayor of Los Angeles once replied: "Buses are boring. Trains are sexy."

Case study
Portland (Oregon):
Transport Oriented Development in Cascadia
2001-2004: Rob van der Bijl (LRA)
This Case Study considers the regional public transport system of Portland (OR). Urban development can be guided with the help of high-quality public transport rail-infrastructure. Portland's Light Rail MAX is a success. This superb system supports regional and urban planning, while both Portland Streetcar and MAX serve as tools of urban renewal.
Light rail panorama
The original panorama picture and text (1999). Return to the history of light rail Utrecht (Netherlands). Click here...

Back to the top of this page.
Design LRA 1998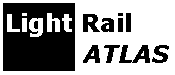 Between 1998 and 2010 Light Rail Atlas developed rapidly. Read all about the design that backed this early years of light rail on the internet. Click here...